Hey, it's a feature update!

In the days when the mountain was a bustling Dwarvish city, there were many fine shops, stores and emporiums. These have long gone, their finery trampled 'neath the feet of orcs; which was sad for the Dwarves but saves me having to make sprites for them. The only surviving retail opportunities are from a plucky Dwarfish start-up which introduced vending machines, or "Dwarvending Machines" as I'm calling them, because you can't legally stop me.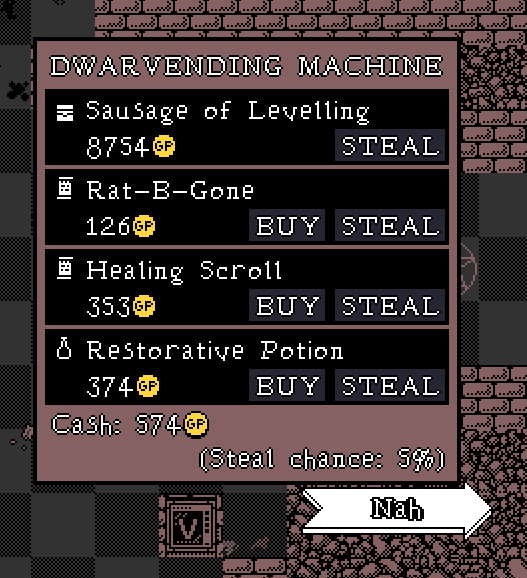 These scattered machines offer a random range of items for purchase using the loot your party has gathered so far. Or you can just steal stuff! But stealing is bad (unless it's like an election or something, then it's NBD); and there are safeguards in place.
Of course, over time the algorithms used by these machines have become corrupted; like your Steam recommendations after you looked at that anime game THAT ONE TIME! So sometimes the machines will pay you to take an item - but non-buyer beware these offerings are not without risk.

This update also has some more bugfixes, but I've probably introduced a tonne more with these bloody machines - so please let me know if you hit problems. Also balancing the prices was a bugger - please comment if you think some things are too cheap or too pricey.

(Thanks to "struggling" in the comments section for reminding me that I'd thought about adding a store mechanic.)

Files
build.zip
Play in browser
Jul 27, 2019
Get I'm Just Popping Down The Dungeon, Does Anybody Want Anything?